Actress Julia Barretto has shown her collection of her favorite designer bags, amounting to nearly PHP900,000.
In her latest vlog released on November 21, Barretto showed her favorite bags in a virtual tour of her walk-in closet.
Below are some of her favorite bags:
Gucci GG Marmont Matelasse White Pouch Bag
She said that this is her most used bag right now. according to DesignerShare.com, this bag costs $1,200 or around PHP58,000.
"I put here my tiny wallet, my mask [na] fino-fold ko na lang, a lip gloss or a lip balm or a lip stick, and a really tiny hand sanitizer. As you could see, it's so used. Hindi na siya white, off-white na siya," she said.
Balenciaga Classic City Bag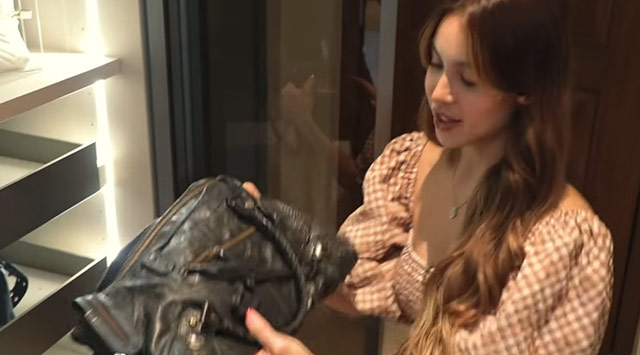 Barretto said this is the first bag she purchased with its own wonder, back when she started working.
"Sirang-sira na siya actually and luma na siya pero ayaw ko ipamigay because it's where I started. Nandiyan lang siya kasi, may attachment ako sa kanya," she said.
According to Farfetch.com, the bag costs over PHP85,000
Prada Re-Edition 2000 Nylon Mini Bag
This bag, she said, is one of her favorites because it's easy to carry around. According to reports, this is also used by Hollywood stars Dua Lipa, Bella Hadid, and sisters Kylie and Kendall Jenner.
According to the brand's official website, this bag costs $795 or around PHP39,000.
YSL Kate Crossbody Bag
"I love everything with a string because parang ano lang, naka-hang lang siya sa akin. I can freely move, use my hands," Barretto said as she describes this bag, which, according to the brand's official website, costs $1,750 or around PHP85,000.
Louis Vuitton Chain Louise Gm Bag Black Calfskin Leather
Barretto said she uses this bag whenever she has to attend evening occasions.
"I got this when I was in Japan. It's also nice. It's my favorite evening bag when I have dinners or when I have events," she said.
According to spottedfashion.com, the bag is priced around $2,810 or around PHP135,000.
Boy Chanel
Barretto said this is one of her most expensive bags, noting she saved money just to buy this.
"It's very special to me because I remember just wanting the bag so much. So I worked so hard so I could buy myself my own Chanel Boy," she said.
According to the brand's website, this bag costs around PHP277,000.
Louis Vuitton Pink Epi Leather Braid Work Twist Mm Bag
The actress said that she got this bag as a gift from Dra. Vicki Belo on her 23rd birthday.
"I just love the color. It's just perfect. I feel like pink is my color of the year and it's just perfect na ito iyong binigay niya sa akin for my birthday. Before, I didn't like pink. Now, I'm so crazy about it," she said.
According to Poshmark.com, the website sells it for around PHP143,000.
Christian Dior Oblique Embroidery Book Tote
Barretto said she uses this bag for her travels and quick beach trips.
"This one I like to use for travel or outings or biglaang beach trips. This is the most reliable bag for me," she said.
According to purseblog.com, this bag costs $2,750 or around PHP133,000.